9 April 2023
By Elaine Murphy
elaine@TheCork.ie
The city of Cork will be hitting a high note this coming May bank holiday weekend. It will take place in city and county for five days of singing from April 26th to April 30th, 2023.  Musical or not, everyone is invited to get involved and participate in the various workshops, events and performances on offer.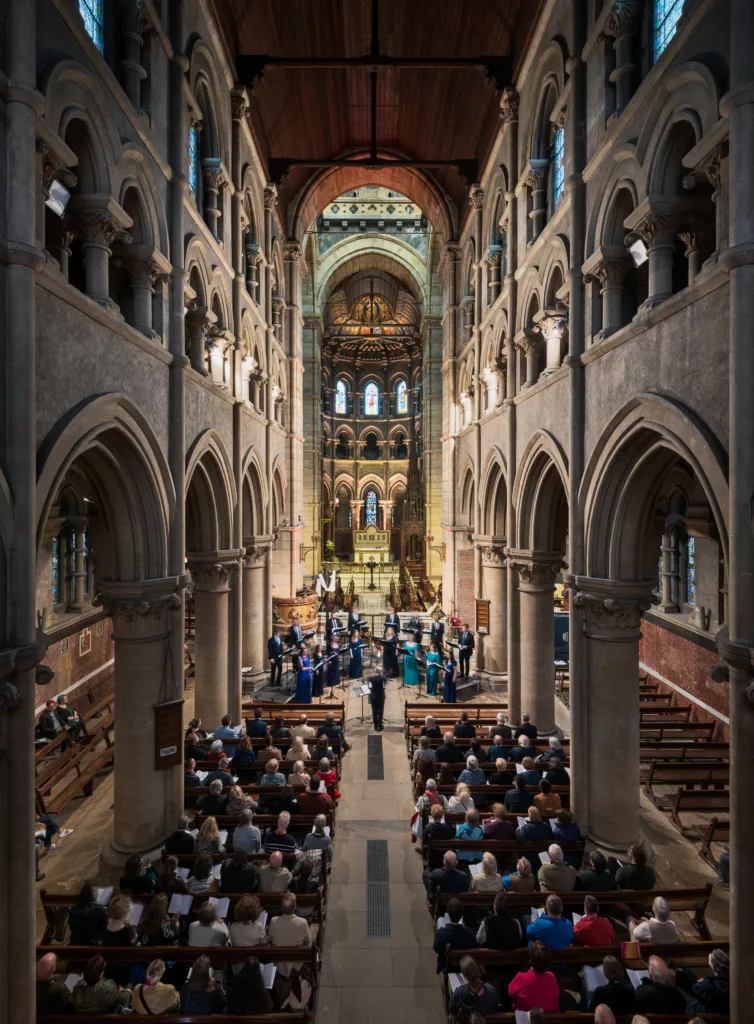 Cork International Choral Festival is the oldest festival in Cork and one of Europe's most prestigious choral events.  Organisers and volunteers are getting ready to welcome back thousands of singers from choirs all over Ireland, Europe and beyond, and tens of thousands of visitors, for the internationally renowned festival, which is now in its 68th year.
This year's festival is expected to welcome the largest international attendance since pre-pandemic times with upwards of 5000 performers from Belgium, Burundi, Canada, Estonia, Finland, France, Germany, Israel, Italy, Lithuania, Norway, Portugal, Slovenia and the UK , and gala events are already selling quickly.
Choirs will participate in gala performances, national and international trophy competitions, fringe concerts, workshops, and free public performances in more than 90 venues throughout Cork city and county.  The fun event, which is always a favourite for the people of Cork, also spills onto the streets, cafes, restaurants and bars of the city, which gives a fantastic atmosphere for the long weekend.  This year the Cobh Fringe will also return, with a new performance on Spike Island.
A highlight of Cork International Choral Festival is always the stunning venues that the performances take place in, including Cork City Hall, St. Fin Barre's Cathedral, Emmet Place, Triskel Christchurch, MTU Cork College of Music, North Cathedral, The Goldie Chapel at Nano Nagle Place and the Freemason's Hall on Tuckey Street to name just a few!
One event not to miss is annual Big Sing, which returns on Saturday April 29th to Cork City Hall, one of the most attractive and acoustically superb venues in Ireland.  During this fun participative public event, singers of all ages and levels of experience are invited along to be part of the largest choir of the festival, ensuring that everybody is given the opportunity to exercise their vocal chords!  The best bit? You don't even need to be able to sing.  It's simply about lending your voice and experiencing the sheer joy and sense of community that lies at the heart of choral singing. No preparation is necessary either as music and lyrics will be handed out on the day.
Other exciting events during the festival itself will include the hotly contested annual Aloys Fleischmann International Trophy competition, which offers audiences the opportunity to hear some of the world's top amateur choir's competing for one of Europe's most prestigious choral prizes.
Audiences will also enjoy Irish Youth Choir and Cork Children's Choir which will see 300 primary school children take to the stage for the Opening Gala Concert on Wednesday 26th. Acclaimed conductor Bernie Sherlock will conduct the first half leading the best young singers from across Ireland. Artistic Director Peter Stobart will conduct a choir of young local voices in the second half.
St. Finbarre's Cathedral will reverberate beautifully to the sounds of Chamber Choir Ireland with guest conductor Sofi Jeannin who will give the premier performance of the winning composition of the 2023 Seán Ó Riada composition competition which is titled Draíocht na Farraige and by Mayo born composer Laura Heneghan. This concert will bring together contemporary works by Irish and French composers and the concert will explore the theme of peace through texts ranging from sanskrit to scripture and some of the greatest poets and writers spanning the centuries.
With the prestigious feature event for Irish choirs – Ireland's Choir of the Year – taking place during the festival, along with an eclectic array of international competitions and musical styles set to be performed over the five days, Cork is the certainly the place to be for the sweet sounds of music in the run up to and during the May bank holiday weekend.
Festival Director Peter Stobart, said,"We're delighted to have a huge level of international participation again this year, which we haven't seen since before the pandemic.  It's going to be an incredible week. Some people have been attending the festival their whole lives and we look forward to surprising at this year's event with new and unique performances and venues. We're also delighted to engage with young choirs across the county of Cork, and the performance with 300 school children at the Opening Gala will certainly be a highlight."
Finally, the much-loved Fringe Choral Festival is back this year, taking place in scenic and historic Cobh, exciting venues will include the majestic St. Colman's Cathedral, the Sirius Art Centre, Spike Island and a Choral Trail which includes Cobh Band Stand, Cobh Heritage Centre, and the Commodore Hotel with a different choir performing every half hour on the 29th and 30th April from 1.00pm – 4.00pm.
The Cork International Choral Festival is supported by the Arts Council, Fáilte Ireland, Cork City Council and Cork County Council, with the Irish Examiner and Evening Echo as media partners.
For Festival Tickets and more information see www.corkchoral.ie