29 June 2023
By Mary Bermingham
mary@TheCork.ie
Full programme is available here
Kinsale Arts Weekend (6-9 July) has a name for innovation and arts experiences in the most beautiful surroundings. This year promises to deliver again with a programme and a theme that captures the imagination inspired by the selkie of Irish folklore across platforms of song, music, poetry, theatre, literature, dance and comedy. The mermaid-like seal woman lives both on land and sea existing between two worlds. Kinsale Arts Weekend takes the idea of shape shifting and skin shedding to inspire artists to explore themes from a female experience, from the perspective of women's ever-changing roles in society and the creative interpretation of these issues through the arts.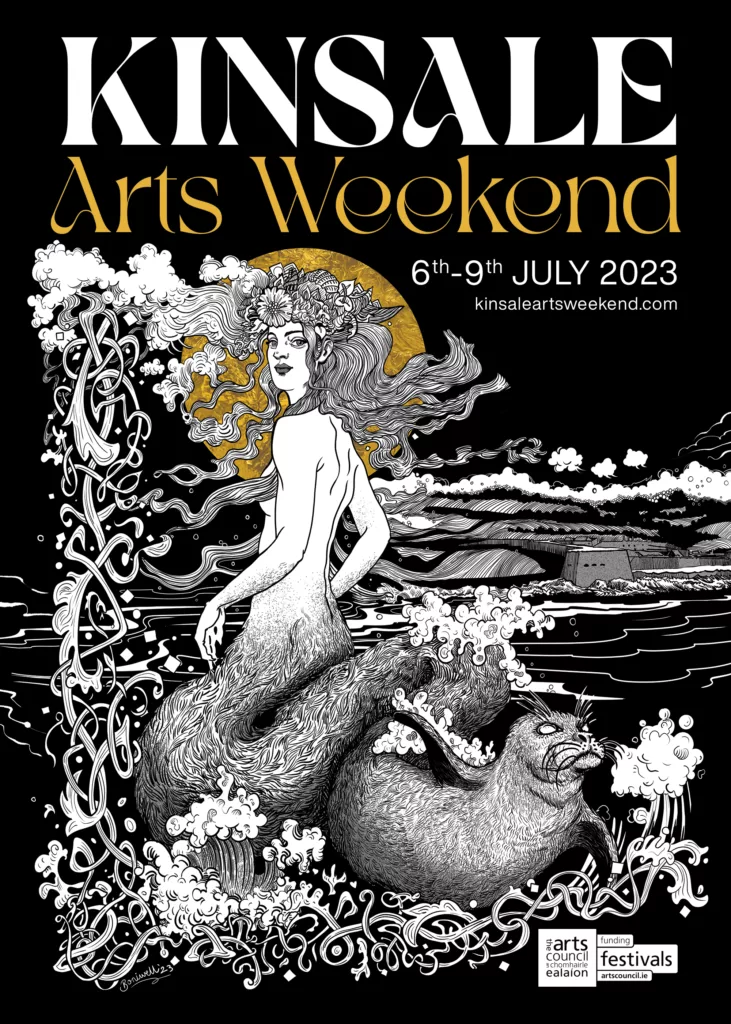 Kinsale Arts Weekend draws a crowd and audiences have grown to expect a festival of wonder. Kinsale Arts Weekend likes to push boundaries, surprise and delight, presenting art as you've never seen it before. This year the festival is bringing shining lights and rising stars to the varied stages across the town. Headline acts for the 2023 festival include renowned singer song writer Lisa Hannigan, writer Manchán Magan, author and poet, Francesca Bell, world famous designer Joseph Walsh, and dance, comedy and circus group, Swarm.
With over 40 events, exhibitions, workshops, talks and performances the programme truly has something for everyone, and with daily free events it is also designed to suit every pocket. Whether you want to learn the art of lino printing, go on a journey with a super model who purchases a polar bear coat, eavesdrop on a chat between a pirate and her 21st century researcher or immerse yourself in psychedelic punk, Kinsale is the place to be this July.
The festival aims to showcase emerging talent across all genres and will feature a number of master classes in the arts. The programme is designed to allow audiences to dip a toe in or fully submerge themselves. Each day is programmed to allow some free time between timetabled events to explore the town, including the important world famous hospitality. Whether you're after an award winning culinary experience or a perfect fish and chips on the pier wall you will find it all in Kinsale.
Chairperson of Kinsale Arts Weekend, Anna Mulcahy says "We are thrilled to be delivering an inspiring programme this year. The selkie theme gives the festival a unique experience and connection across all the acts. Connection is key to what we do here in Kinsale, we want to connect audiences to the art, emerging arts to the more experienced and everyone to our beautiful location.
We are so proud of what we have achieved this year, this festival is a collective from the businesses that support us, the volunteers, artists and of course the Arts Council."
The festival proudly partners with the Kinsale campus of Cork Further Education Services for 2023. This year's theatre programme is co-curated by Belinda Wilde, coordinator of the Drama and Theatre Arts syllabus at the college. Visual Arts course coordinators, Julia Pallone and Jane Skovogaard, will host a number of workshops for aspiring creators. A number of the exhibiting artists and performers are alumni of this campus and while it is a source of pride to see them succeeding on the national and international stage, it is very special to welcome them back to their hometown for this event.
Students of Kinsale Community school continue to support the event and gain exposure to the arts world through their participation in the festival promotion.
The collectable festival poster is a beautiful work of art by Fiona Bonniwell featuring the Selkie.
Kinsale Arts Weekend is build on strong foundations, each year the volunteers, artists and community work to deliver a stand-out festival that captures the imagination. The festival runs from 6-9 July, tickets and full programme are available on Kinsaleartsweekend.com. Dive in!