25 August 2023
By Roger Kennedy
roger@TheCork.ie
Ireland's technological landscape has seen a transformative growth, establishing it as a European tech hub. Cities like Dublin are now brimming with tech giants and innovative startups. As the sector thrives, the need for adept professionals has surged, placing a spotlight on quality tech education. Ireland's universities and colleges have risen to the challenge, offering world-class programs that mold the tech leaders of tomorrow. This emphasis on superior tech education not only serves the local industry but also attracts global talent.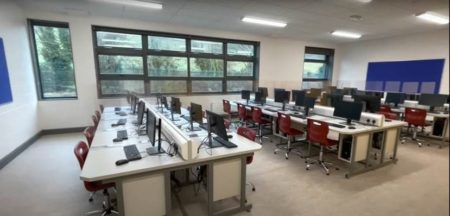 Dublin City University (DCU)
Dublin City University, commonly referred to as DCU, stands prominently as one of Ireland's premier educational institutions. Located in the heart of the capital, it offers an array of cutting-edge tech programs. The School of Computing and the Faculty of Engineering & Computing are particularly noteworthy, staying abreast with the latest technological advancements. 
This emphasis on innovation has paved the way for many DCU alumni to make significant marks in the tech world. Their tight-knit industry connections offer students invaluable exposure. And remember, if coursework ever becomes overwhelming, you can take a breather and consider utilizing professional writing services like Essaypro for assistance. Now, let's move on to the rest of colleges and universities you should consider applying to!
Trinity College Dublin (TCD)
Established in 1592, Trinity College Dublin holds the mantle of being Ireland's oldest university, and its historic legacy beautifully meshes with its modern aspirations. Amidst its iconic cobblestoned paths and storied buildings, TCD fosters a vibrant tech environment.
The School of Computer Science and Statistics at TCD is a testament to the university's commitment to tech innovation. It offers a slew of forward-thinking courses, keeping students at the vanguard of technological advances.
Beyond coursework, Trinity is renowned for its extensive research initiatives. These endeavors are often bolstered by robust partnerships with leading tech industry players, propelling students into real-world applications and opportunities
University College Dublin (UCD)
Located in Ireland's bustling capital, University College Dublin stands out with its impressive global ranking and sterling academic reputation. UCD consistently ranks among the top universities worldwide, drawing international students and scholars alike.
At its core, UCD's School of Computer Science shines brightly. It offers a myriad of programs, from foundational computer science degrees to specialized IT courses, ensuring students are well-equipped for the evolving tech landscape.
UCD doesn't just rest on academic laurels. The university collaborates intimately with tech giants, fostering a culture of innovation. Its emphasis on research and real-world application provides students with unparalleled industry exposure and opportunities.
Technological University Dublin (TU Dublin)
Emerging from the union of three pivotal tech institutions, Technological University Dublin symbolizes a new era in tech education in Ireland. This merger has combined the strengths and histories of its predecessors, positioning TU Dublin at the forefront of technological advancement.
Diversity in education is a hallmark of TU Dublin. From software development to data analytics, the institution offers a broad spectrum of tech courses. These courses cater to both the traditional tech student and the modern, ever-evolving tech enthusiast.
More than just theory, TU Dublin places a strong emphasis on hands-on experience. Students are molded with practical skills, ensuring they graduate not just with knowledge but with an industry readiness that sets them apart in the job market.
National University of Ireland, Galway (NUIG)
Founded in 1845, the National University of Ireland, Galway stands as a testament to academic excellence. Its storied history intertwines with pivotal moments, making it an institution of great significance in Ireland's academic landscape.
The university's tech faculties have increasingly made their mark, especially in the European tech scene. Renowned for cutting-edge courses and innovative teaching methods, NUIG has become a hub for aspiring tech professionals.
Beyond classroom learning, NUIG boasts of state-of-the-art research labs. Collaborations with industry giants further solidify its reputation, offering students invaluable exposure and opportunities for real-world applications.
University College Cork (UCC)

Renowned for its academic prowess, University College Cork stands tall with multiple accolades to its name. It's not just a historical landmark but also a beacon of modern-day educational excellence.
The School of Computer Science & IT at UCC is a testament to its commitment to technology education. With a curriculum tailored to meet industry demands, the school grooms future leaders in the tech domain.
UCC doesn't just stop at classroom teachings. Its collaboration with both local and international tech businesses ensures students get hands-on experience, preparing them for the dynamic challenges of the tech industry.
MTU
MTU previously known as Cork Institute of Technology, with its strong emphasis on applied learning, has carved a niche for itself in the tech education sector. Some people involved in writing assignments might be interested in the best paper writing services to help with structure or getting from a blank page to something better.
The institution boasts a wide array of tech programs and specializations, catering to a range of interests. Whether you're into software engineering or network management, MTU has a course tailored for you.
Beyond just academic pursuits, MTU's extensive links with the industry offer students invaluable placement opportunities. Such real-world exposure ensures they're industry-ready upon graduation.
Limerick Institute of Technology (LIT)
Limerick Institute of Technology stands tall among Ireland's premier educational establishments. The institution is recognized for its commitment to excellence and its holistic approach to education.
Central to LIT's academic offerings is its innovative tech education, a realm where the institute consistently excels. Through cutting-edge courses and a forward-thinking curriculum, LIT equips students with skills suited for the evolving tech landscape.
The testament to LIT's efficacy in tech education is its alumni. Many former students have carved significant niches in the tech world, owing much of their success to the foundation built at LIT.
Factors to Consider When Choosing a Tech Institution in Ireland
When zeroing in on a tech institution in Ireland, the course content is paramount. Prospective students should ensure that the curriculum aligns with their career goals and offers specialization areas tailored to the ever-evolving tech industry.
Another significant aspect is the institution's ties with the industry. Schools with strong industry connections often provide invaluable internship opportunities, giving students a taste of real-world challenges and enhancing employability.
Lastly, the calibre of an institution often reflected in its faculty. Prospective tech students should prioritize institutions boasting qualified faculties with impressive research outputs, as this usually translates to enriched learning experiences.
Conclusion
Ireland's trajectory in tech education continues its upward trend, making it a hub for aspiring tech professionals. The institutions listed not only cater to domestic demand but also influence the global tech ecosystem. Through their rigorous curricula, research contributions, and industry collaborations, these universities and colleges are actively sculpting the next generation of tech innovators and leaders. Their impact resonates globally, solidifying Ireland's position on the forefront of tech education and innovation.