24 August 2023
By Roger Kennedy
roger@TheCork.ie
On this site, we have covered the expansion of the National Broadband Plan (NBP) into areas of Cork County, like Youghal. The NBP, signed in November of 2019, plans to allocate millions to local infrastructure so that every Irish house can have high-speed broadband. So far, €314 million is earmarked for use in Cork. Faster internet comes with quite a few benefits, many coming to the county in the coming year. Here are the three main benefits to Ireland.
Find out how NBI is rolling out the NBI™ network by watching the below video. You can also visit the NBI website and search your eircode today! https://t.co/BaHccQiAdl #NationalBroadbandPlan #buildingalimitlessireland @Dept_ECC pic.twitter.com/qLNo9glDEn

— National Broadband Ireland (@NatBroadbandIrl) November 26, 2021
E-Learning & Working from Home
Working from home and learning at a distance are still popular, due to the reduced costs that come with these arrangements. Naturally, these work best when we have fast and reliable internet, which can be a tall ask for rural workers.
E-learning mainly focuses on online courses and valuable calls with educators, which also need a good internet connection. However, it's important to note that everybody learns from the internet. Increased access to it doesn't just help students, it allows anybody to easily learn from others online, even for leisure. Ireland is the home of many iGaming services, for example, allowing players to play many games that have different rules. Through the internet, users can find and choose a winning roulette strategy to help them play. This same principle applies to other activities, hobbies, and fascinations that require some homework before engaging in them.
Smarter Farming
However, having improved internet isn't all about becoming a homebody. There are beneficial, actionable use cases of better rural internet that help businesses and their wide range of clientele. In Cork, ready access to the internet can help farmers monitor their livestock and sensitive equipment from a distance. With mounted cameras and a few taps on a screen, farmers can survey cattle and equipment without moving, saving them time and money as they can get busy with the many other farm tasks at hand.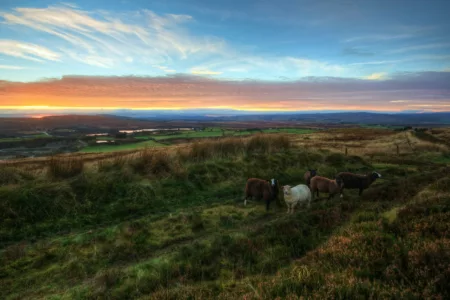 Source: Pexels
Even with crops, farming machines are starting to use smart, data-collecting computers to track estimated crop yields and their nutrient profiles while still in the ground. Then these precision farmers can work smart, not (as) hard. However, some of these devices meet their full potential by being interconnected with others, which can require an internet connection.
Then there's the business side of things. Farming is tough and many operations set up stores that sell their local produce for a profit. Through the internet, marketing farmers' markets is easier and can reach more people across the county. Those who want to make a good go of it can start a business with the internet. Other aspects of a farm business can also be improved with an internet connection, such as accounting, payroll, and employees' work time, which could all be managed digitally.
Home Energy Efficiency
Lastly, to bring these benefits back home, better internet can help make your home more energy efficient. If internet-connected devices can help farmers manage their crop rotations and how much nutrients each needs, it can also optimise your home's energy output. Think smart meters that are connected to the internet, communicating with your utility company and even the wider power grid, allowing more efficient redirections of power. Automating energy infrastructure is part of something called the Internet of Energy and can result in cheaper energy bills for all involved.
This goes double for homes that have many smart appliances. These are Internet of Things devices that can connect to your phone or each other, creating a private network of appliances that you can control. They're better at tracking energy metrics and even changing their own behaviour in response to them, using less power at certain times of the day when it's more expensive, etc. Without a strong internet connection, these devices would be less efficient and less able to form a home network.