13 October 2023
By Roger Kennedy
roger@TheCork.ie
Entertainment
In the last 10 years, the iGaming industry is considered to be one of the fastest developing and conquering industries in the world and it is expected that by 2025, its total value will exceed an impressive 260 billion dollars. Witness to this trend are many advanced and well-regulated iGaming markets, of which the UK and Ireland markets are particularly important.
The iGaming sector in Ireland is growing in popularity every day, thanks to advances in technology such as the availability of smartphones and the Internet, as well as the overall popularity of gambling on Emerald Isle. In this article, we will show the current situation and the impact of online gambling in Ireland, but we will also touch on its economic impact, as well as the regulations prescribed by the country's government.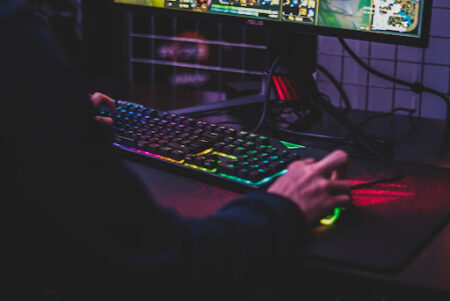 Source: unsplash.com
iGaming Industry on Emerald Isle  Overview
The Irish iGaming industry experienced a boom the moment when a new law was introduced, back in 2016, a law that allowed suppliers to offer their services within the country. This was a trigger for many companies, and all has opened the door for many casino companies that have permanently positioned themselves on the Irish market, such as Luckiest Online Casino by offering a wide variety of games such as slots and online poker games.
In addition to the great interest of companies to join the Irish iGaming market, there is great interest among players as well, and the numbers only confirm these facts year after year. So in 2021, online casinos recorded a significant increase of almost 40% in the number of registered users for online betting. This number is greatly contributed by the growth and development of technology, as well as the acceptance and integration of the same in iGaming companies, which then provide their players with the availability of games in various formats such as web platform games, gaming applications, etc.
Contribution of iGaming to the Ireland's Economy
Ireland has always been synonymous with a turbulent economic history, with frequent ups and downs in terms of economic growth. But one detail that particularly catches the eye is the small but significant growth of 5%, which is believed to be due to the contribution of the gambling industry. It is not new news that Irish people like to gamble and play cards, and the fact that they already issued over 40 licences for games of chance back in 2018.
Another way the gaming industry contributes to the economy on the Emerald Isle is through the creation of new businesses. This was additionally helped by the fact that Ireland has long since gained recognition as one of the most digitised countries in Europe, and with the addition of iGaming, the Irish economy, unlike the previous stormy years, is now slowly becoming a global force.
But all this would not be possible without the support of the government, and the Irish government has taken a proactive approach in promoting iGaming, with relaxed laws, attractive incentives and initiatives, but also tax breaks for all actors from developers to players. Another important step for the future of the Irish economy is the government's initiative to finance universities and game development programs, as well as the organisation of various international summits and events, which attract investors from all over the world.
iGaming Regulations in Ireland
Although Ireland did not have an established law to regulate iGaming in the nation, a shift occurred in early 2023, and The Gambling Regulatory Authority of Ireland (GRAI) was founded as a new regulatory organisation responsible for regulating services and licensing iGaming businesses. Its main goal will be the promotion of public safety and well-being, and it will cover everything from live gambling to online gambling, that is, it will have the authority to regulate all websites and applications.
Impact on Irish Culture
Gambling has never been unfamiliar to the Irish, and it has been present for decades, with the first documented bets being to horse racing. Betting has extended to other sports throughout the years, with football and rugby being two of the most popular. Casinos and lotteries were not popular, but this was due to the fact that they were illegal until recently and hence were unknown.
However, as the law evolves, iGaming is gradually gaining popularity and beginning to leave its stamp on culture, allowing gamers to broaden their horizons, try new games, and find a feeling of belonging in new online worlds. This has also transformed the way individuals interact, spend their free time, share experiences, and form new connections, all of which have long been vital aspects of Irish culture.

Finally, we can conclude that iGaming, although it has yet to receive real attention, has been building its way to success for many years. Ireland, as a technologically advanced country, has recognized the potential benefits of the iGaming industry, so it is revising its laws accordingly, creating a good basis for new economic opportunities.

Ireland is not only a country that offers beautiful sights, but a country with great potential and an audience eager for good entertainment, so it is believed that with new laws and further acceptance of technologies, it will use its full potential and establish constant economic growth once and for all.