13 October 2023
By Mary Bemingham
mary@TheCork.ie
Buy tickets and find more details on National Menopause Summit Cork (supported by M&S) at www.nationalmenopausesummit.com
With this October marking World Menopause Awareness Month, the country's leading experts in menopause care and women's health alongside industry wide professionals advocating for menopause friendly workplace environments will speak at the upcoming National Menopause Summit Cork supported by M&S which takes place at Cork City Hall on Friday October 20th 2023. This national summit centres around this month's World Menopause Awareness Month and World Menopause Day, which is marked annually on October 18th.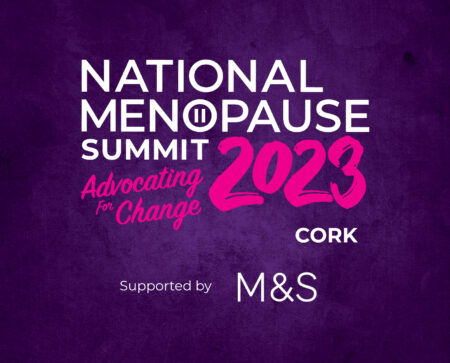 The forthcoming full day summit is also honoured to announce that Minister Roderic O'Gorman, Minister for Children, Equality, Disability, Integration and Youth will deliver the closing speech at the much-anticipated event and Lord Mayor of Cork, Cllr. Kieran McCarthy will officially open the summit.
In advance of this month's landmark summit, Sinéad McNamara founder and co-director of the National Menopause Summit comments "Given this month is World Menopause Month, we are proud to be part of not only the national but also the global awareness raising campaign for menopause and supports for improving women's health and wellbeing during this stage of their life. Following on from last March's sold out inaugural National Menopause Summit in Dublin, we look forward to welcoming in excess of 500 attendees to the Cork summit on Friday October 20th, which takes place two days after World Menopause Day."
"We are delighted and proud to announce that Minister Roderic O'Gorman, Minister for Children, Equality, Disability, Integration and Youth will deliver the closing speech at the forthcoming National Menopause Summit Cork supported by M&S. Minister O'Gorman recently announced the Irish Government's plans to commission new research on the impacts of menstruation and menopause in the workplace. This research is being undertaken as part of efforts to inform new policies for employers across the country.  Minister O'Gorman will be joined by Lord Mayor of Cork, Cllr. Kieran McCarthy and our stellar speaker line up to share best in class knowledge, empowerment and education on perimenopause and menopause at our Masterclass in Menopause during World Menopause Awareness Month."
Minister Roderic O'Gorman, Minister for Children, Equality, Disability, Integration and Youth comments "An increasing number of organisations are looking to better understand the challenges their women employees encounter in their menopause journey and seek solutions for supporting them.  Events such as the National Menopause Summit make an important contribution to raising awareness and offer an opportunity for the sharing of good practice between employers."
Menopause champion, journalist and broadcaster Gráinne Seoige returns as compère and moderator for the Cork summit, whose 2022 TG4 documentary Meanapás: Meon Nua explored the topic of menopause, how it is handled in this country and served as a ground-breaking vehicle to debunk menopause for Irish women. The expertly curated panel of speakers will feature renowned menopause awareness pioneer and one of the UK's most respected broadcasters and journalists Mariella Frostrup as the summit's international guest speaker. Mariella's groundbreaking 2018 BBC1 documentary 'The Truth about Menopause' was one of the first documentaries on menopause, breaking the taboo and speaking honestly about her own menopause experience. Channelling her passion for women's rights and empowerment, Mariella is also the chair of the UK's Menopause Mandate and has authored the book 'Cracking the Menopause: While Keeping Yourself Together' which separates the myths from the reality and offers expertise, hope and advice for all affected by perimenopause and menopause.
The National Menopause Summit Cork full day event will continue to shift the narrative by debunking myths and taboos, provide vital fact based information on menopause symptoms, solutions and complex menopause, and include advice from leading experts in crucial areas of menopause care and women's health including nutrition, mental health, heart health, pelvic floor health, posture, sexual health, women's physical wellness and menopause care to incorporate equality, diversity and inclusivity.
Also championing for a new norm across the Irish workplace, the National Menopause Summit Cork will advocate and empower the introduction of inclusive, compassionate and sympathetic work policies to ensure all feel supported and enabled to forge forward in their careers, thus stemming the flow of women choosing to exit the workforce, or disregard opportunities for advancement, due to the lack of these crucial supports.
In addition to Mariella Frostrup and Gráinne Seoige, the Cork summit's powerful voices and exceptional speaker line-up also includes joint leads of the Complex Menopause Clinic Cork University Maternity Hospital CUMH,  Dr Brenda Moran accredited menopause specialist and portfolio GP with a special interest in women's health and sexual health and Dr Karen Soffe GP lead with special interest in women's mid-life health and accredited menopause specialist; Dr Sumi Dunne, GP and clinical lecturer in General Practice, Royal College of Surgeons in Ireland (RCSI) and the GP expert on RTE's Operation Transformation; Loretta Dignam, founder and CEO of The Menopause Hub; Dr Máire Finn, GP, educator and broadcaster passionate about women's health and wellbeing in partnership with Irish Life Health the Official Health Insurance Partner of the National Menopause Summit; Shalini Wiseman, chartered physiotherapist in pelvic health and continence; Aveen Bannon, founder and dietitian at the Dublin Nutrition Centre who is currently considered one of the top dietitian's in the country; Samantha Cushen lecturer in human nutrition and dietetics at University College Cork; Dr Tanya Mulcahy director of Health Innovation Hub Ireland and founder of Femtech Ireland; Joanne Healy, head of group employee relations at Bank of Ireland and Katie Ridge, head of employer relations at Adare Human Resource Management.
The full day event will also feature moderated panel discussions with leading experts in the areas of menopause in the workplace and menopause care and women's health. 'The Journey Through Menopause' panel discussion will feature advice from a panel of experts in crucial areas such as heart health with Janis Morrissey director of health promotion, information and training at the Irish Heart Foundation and Official Wellbeing Partner of the Cork summit; menopause symptoms and solutions advice from Dr Caoimhe Hartley clinical lead Rotunda Hospital Menopause Clinic and founder of Menopause Health; the importance of posture and breast health with chartered physiotherapist Siobhán O'Donovan  creator and founder of PostureFitting Physiotherapy Service; the importance of maintaining muscle mass while we age with personal trainer and perimenopause to post-menopause women's wellness coach Sarah Alcock of Primefit by Sarah; menopause care to incorporate equality, diversity and inclusivity with Fiona Weldon capacity officer Independent Living Movement Ireland, and the role of GPs in menopause care from Dr Brian Kennedy founder of HRT Prescribers. They will also be joined by Shantie Tedjal-Carroll menopause mentor, yoga teacher, advocate for women's wellness and co-founder of the Cork Menopause Support Group.
Panel discussions on research, innovation and support in Menopause in the Workplace will feature Goretti Sheridan Superintendent at An Garda Síochána, Ashley Connolly head of health and welfare division at Fórsa,  Lynda Moore midwife Cork University Maternity Hospital and member of the INMO Executive Council, Fania Stoney business development strategist at Great Place to Work, Kay McCarthy founder & CEO MCCP and Martin Gillick wellbeing manager at Bus Éireann. The morning's programme will also include an informative  explanation of perimenopause, menopause and postmenopause by.
Frances Gordon, head of marketing and sales at M&S Ireland comments on their lead sponsorship of the Cork summit "We are proud to support the first National Menopause Summit in Cork. At M&S Ireland, we believe in championing causes that matter to our community, and women's health is a topic of vital importance. The menopause is a significant life transition, and we are committed to raising awareness and providing support to our customers and colleagues, particularly with our selection of menopause products that are tailored to help women. Together, we can create an open dialogue, share knowledge, and empower women to navigate this important stage of life with confidence."
Dr Máire Finn, GP, educator and broadcaster in partnership with Irish Life Health the Official Health Insurance Partner of the National Menopause Summit, Dr Brenda Moran joint lead of the Complex Menopause Clinic Cork University Maternity Hospital CUMH, accredited menopause specialist and portfolio GP with a special interest in women's health and sexual health, Sinéad McNamara, Founder and Co-Director of National Menopause Summit Cork supported by M&S, Lord Mayor of Cork, Cllr. Kieran McCarthy, Shantie Tedjal-Carroll menopause mentor, yoga teacher, advocate for women's wellness and co-founder of the Cork Menopause Support Group, Shalini Wiseman, chartered physiotherapist in pelvic health and continence and Samantha Cushen lecturer in human nutrition and dietetics at University College Cork.
With this October marking World Menopause Month, the country's leading experts and advocates in menopause care and women's health will speak at the upcoming National Menopause Summit Cork supported by M&S which takes place in the historic venue of Cork City Hall on Friday October 20th 2023 . Tickets, speaker line-up and event details at www.nationalmenopausesummit.com
Following the phenomenal success of the sold out inaugural National Menopause Summit in Dublin, the full day national summit centres around this month's World Menopause Month and World Menopause Day, which is marked annually on October 18th.
Photography By Gerard McCarthy 087 8537228
More info contact Shell Holden shell@bestinfest.ie