17 October 2023
By Tom Collins
tom@TheCork.ie
A key figure in the EU's infrastructure policymaking has called for significant transformation in the delivery of infrastructure to reduce global CO2 emissions.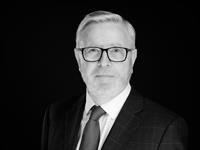 The EU's European Coordinator for the TEN-T Scandinavian-Mediterranean Corridor Pat Cox believes the design, construction, and maintenance of infrastructure needs to undergo significant transformation as does public policy to meet this objective.
"The construction and building sector accounts for up to 50% of global CO2 emissions taking account of embedded CO2 in key inputs such as steel and concrete and including the transport of materials and on-site emissions."
The Former President of the European Parliament who is currently appointed to key roles by the European Commission, European Parliament, and the European Investment Bank was speaking ahead of the European Infrastructure Conference.
The conference will see European government officials and leading international players in the infrastructure delivery and investment sectors gather in Dublin in November to explore opportunities and partnerships to meet global challenges.
The decarbonisation of infrastructure and the built environment will be a key discussion with Dublin providing a fitting backdrop for the discussion with Irish companies providing increasingly critical solutions for decarbonising infrastructure including SuperNode, Kingspan, Ecocem, Mainstream Renewable Power, ESB, CRH, and Ryanair. The conference will also discuss how to deliver the transport network of the future, investments to capitalise on offshore wind, and the role of public-private partnerships (PPPs).
Gemma McRann a Senior Vice President at Macquarie Capital said: "Macquarie has been active in Ireland for over 20 years, leveraging our expertise from investing in PPPs and sectors such as renewable energy and social infrastructure around the world.  The European Infrastructure Conference provides a valuable platform for leaders in both the public and private sectors to develop models and partnerships that can deliver the sustainable infrastructure needed to support communities across the continent, as well as helping to address key issues like social infrastructure and decarbonisation in Ireland."
Ireland also provides an attractive location for the international infrastructure industry to gather as the demand for public and private investment in Ireland's infrastructure ramps up, underlined by the Irish Government's Budget announced this week.
Robert Costello a Partner at PwC added: "The next five years are going to be pivotal for the future growth prospects of our country. We have new levels of capital investment in our economy and many projects, across sectors, are now entering the delivery stage. It's critical we get this delivery right to address challenges in housing, in healthcare and to decarbonise our economy. It's a very exciting time with lots to do and I'm delighted to support this conference where we will discuss the challenges, opportunities and solutions for Ireland's infrastructure needs."
The European Infrastructure Conference 2023 takes place at the Clayton Hotel Ballsbridge, Dublin, on November 2nd. The conference has been organised by Premier Publishing & Events and Keniry Advisory Services and is sponsored by PwC, BTY Group, and Eversheds Sutherland.
The line-up includes speakers from: UK Department for Business & Trade, Transport Infrastructure Ireland, Sacyr, PwC, Plenary Group, Pinsent Masons, National Development Finance Agency, Ministry of Foreign Affairs of Denmark, Mainstream Renewable Power, Macquarie, Kingspan, KBRA, Irish Rail, Ireland Strategic Investment Fund, Invesis, Eversheds Sutherland, EllisDon, Doyle Shipping Group, Department of Public Expenditure NDP Delivery and Reform, CBRE Investment Management, Build America Center, BTY, AIAI; and Arup.