21 October 2023
By Elaine Murphy
elaine@TheCork.ie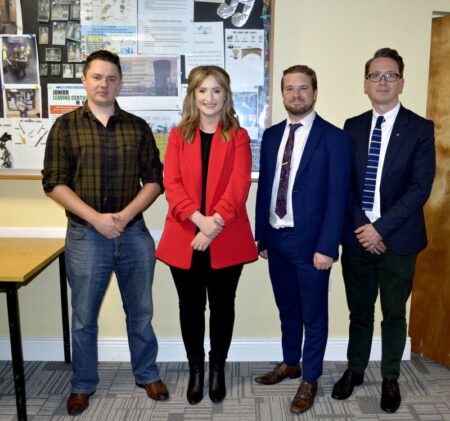 Sinn Féin has announced a ticket of three candidates to contest next summer's Local Elections in Cork City South West.
The candidates are Orla O'Leary who lives on the Model Farm Road was recently selected by the party to replace Eolan Ryng on Cork City Council, Joe Lynch from Ballincollig and Odran Corcoran from Glasheen.
Speaking following the party convention held in Togher Community Centre Ms O'Leary – who is a daughter of Former Lord Mayor Cllr Chris O'Leary (SF) said, "The selection of three Sinn Féin candidates for the South West Ward is a real statement of ambition from the party. We are committed to representing workers, families and communities right across the area. Sinn Féin is ambitious for Cork, for our people, our city and for our local economy."Our focus will be on delivery and getting results and making real improvements in people's lives. Im delighted to be working with Odran Corcoran and Joe Lynch as part of strong Sinn Féin team in Cork City South West.
Mr Lynch, a Sinn Féin activist since his teens and former advisor to Sinn Féin Leader Mary McDonald said; "My number one priority will be to deliver affordable homes for workers and families in Ballincollig and across Cork City.
"Fine Gael and Fianna Fáil's failure to address the housing crisis is making it impossible for those who have grown up in places like Ballincollig and Carrigrohane to afford a home – to buy or to rent – in their own communities. Every day that they remain in office the worse things are getting.
"Having worked full-time in politics for over ten years, including as senior political advisor in the Dáil to Mary Lou McDonald, I am ready to hit the ground running in City Hall – getting the Council building homes and ensuring local Council services are protected and enhanced."
Mr Corcoran, an experienced Sinn Féin activist added, "I want to be a strong voice for the people of Togher and Glasheen on Cork City Council. Top of my agenda will be a major scaling up in the delivery of affordable homes to buy and rent, improving community infrastructure and services, and empowering local communities. I want to bring forward proposals to help create a better future for our city. This is a positive and energetic Sinn Féin ticket for South West. Our intent is to make a real difference for people."