14 November 2023
By Elaine Murphy
elaine@TheCork.ie
A significant new artwork bought for the National Collection by Crawford Art Gallery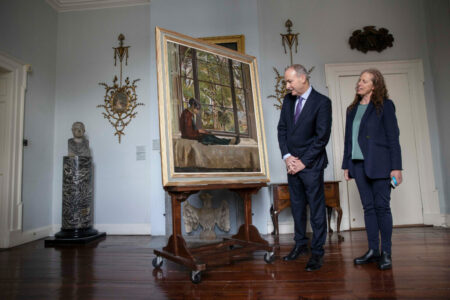 "The Window" was painted by Seán Keating in 1924 and it has been acquired by Crawford Art Gallery at auction from a private seller with support from the Department of Tourism, Culture, Arts, Gaeltacht, Sport and Media.
It is a valuable addition to the Crawford Collection from a historically important Irish painter and can now bring joy to the public for generations to come.
Speaking at the official unveiling yesterday, Tánaiste Micheál Martin said:'I am honoured to preside over the unveiling of "The Window" by iconic Irish artist Seán Keating, who has been pivotal in capturing the difficult journey taken to achieve the Irish State. This painting was first shown in 1924 at the Aonach Tailteann – the sporting and cultural festival held to showcase the strengths of a new nation drawing on its proud history, culture and traditions. So, as we approach the end of the Decade of Centenaries, it is fitting that the Crawford Art Gallery can put this wonderful artwork on public display.'
Minister for Tourism, Culture, Arts, Gaeltacht, Sport and Media, Catherine Martin TD, whose Department provided financial assistance for the acquisition of "The Window", said:
'As Minister with responsibility for culture and the arts, I am committed to enhancing access to and engagement with our national cultural institutions and the artworks and artefacts under their care. In this regard, I commend Crawford Art Gallery for acquiring this painting and growing the Seán Keating collection. I am sure that this addition will quickly win the hearts and minds of visitors to the Gallery, ensuring that it remains a vital part of Ireland's cultural and tourism infrastructure. I would strongly encourage people to visit and enjoy this beautiful and very personal work by Keating'.
'We were thrilled to be able to secure this work for the public collection and are very grateful to the Minister Catherine Martins Department of Tourism, Culture, Arts, Gaeltacht, Sport and Media for their full support. It is important that these works can be seen in Ireland on public display and that they can be conserved for future generations,' Rose Mc Hugh, Chair of Crawford Art Gallery, said.
'This work adds a new dimension to the Sean Keating collection at Crawford. Its subject matter is tender and timeless and it is very modern in nature, despite being 100 years old in 2024. We look forward to seeing it on public display and to seeing our audience engage with it,' Mary McCarthy, Director Crawford Art Gallery, said.
Keating (1889 –1977), is best known for his depictions of the Irish War of Independence and Civil War, including Men of the South and An Allegory. Though painted the same year, The Window marks a departure from these political subjects: it is a gentle and affectionate depiction of his wife, May, seated at a window reading.
It was one of ten works exhibited by Keating at the 1924 Aonach Tailteann games, the first major sporting event in Ireland following the Civil War. The painting was then acquired by a private owner and has remained with them until Crawford Art Gallery's recent purchase.
The Window brings to 13 the number of works by Keating in the Crawford collection. The best known is Men of the South, painted the same year as The Window, depicting real life members of the 2nd North Cork Brigade of the IRA awaiting an ambush.
Men of the South was released as a stamp by An Post in 2020, and is much loved by Crawford gallery-goers. It is currently on loan from the Crawford to the Irish Museum of Modern Art (IMMA) for their Self-determination: A Global Perspective exhibition opening on 30 November.
The Window went on display to visitors to Crawford Art Gallery on Monday 13 November.
More about Crawford Art Gallery
Crawford Art Gallery is an Irish national cultural institution, dedicated to contemporary and historic visual art, located in a significant heritage building in the heart of Cork city. Offering a vibrant and dynamic programme of temporary exhibitions, it is also houses a collection of national importance which tells a compelling story of Cork and Ireland over the last three centuries.
Originally built in 1724 as the city's Customs House, the Gallery is home to the famous Canova Casts, gifted to Cork two centuries ago. Featured in the gallery's collection of over 3,000 objects are contemporary artists Aideen Barry, Gerard Byrne, Maud Cotter, Dorothy Cross, Tacita Dean, and Sean Scully as well as much-loved works by Irish artists James Barry, Harry Clarke, Mainie Jellett, Seán Keating, Daniel Maclise, Norah McGuinness, Edith Somerville, and Jack B. Yeats.
An oasis of calm and tranquility, Crawford Art Gallery is open seven days a week, free to enter, and a must-see for locals and tourists alike.
Opening Hours 
Monday–Saturday 10.00am–5.00pm Late opening Thursdays until 8.00pm Sundays and Bank Holidays Gallery: 11am – 4pm Entry Free
Tours
Free Tours Sundays and Bank Holiday Mondays 2pm Free Tours on Thursday 6.30 pm . This project is in support of the Night-Time Economy and funded by The Department of Tourism, Culture, Arts, Gaeltacht, Sport and Media.
Café – The Green Room
A classic old world dining room in Cork's cultural epicentre that mixes traditional food offerings alongside contemporary trends.
Open 7 days a week with opening times on www.crawfordartgallery.ie