17 November 2023
By Elaine Murphy
elaine@TheCork.ie
Cork's newest pedestrian and cycle path and bridge was opened today by the Minister for Transport, Eamon Ryan T.D. and the Lord Mayor of Cork Cllr. Kieran McCarthy.
Funded by the National Transport Authority, the four-metre wide, 63-metre-long Vernon Mount Bridge and one-kilometre long pathway provides safe and accessible connectivity between Grange/Frankfield and Tramore Valley Park, and onwards to Douglas and the city centre, giving residents, students and commuters for the option to walk, wheel or cycle and thereby reducing traffic congestion.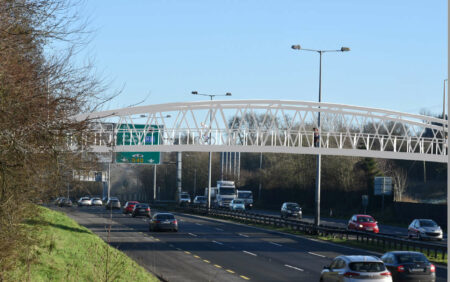 The pathway is also accessible for people with mobility needs and includes environmentally sensitive public lighting. As part of the project Cork City Council acquired 13 acres of woodland to increase the overall biodiversity and green park area within the city.
Vernon Mount Bridge, which crosses over the N40, linking Grange to the Park, was named through a public naming submission process set up by Cork City Council. Over the course of a month, a total of 598 submissions were received from the public, which were eventually whittled down to the six most popular names and finally voted on by the elected members of Council. The chosen name is significant as the bridge is located within the sightline of local landmark and former Georgian stately home, Vernon Mount House which was named for Mount Vernon, the home of US President George Washington. The bridge was constructed by Thompsons of Carlow and lifted into place using a 650-tonne crane in April. Construction works were carried out by Jons Civil Engineering Company Ltd.
Lord Mayor of Cork, Cllr. Kieran McCarthy said: "I'm delighted to be a part of the celebrations surrounding the opening of this strategic transport project that the people of Grange, Frankfield and further afield have been eagerly awaiting. It's a huge bonus to the community here, now they can safely travel on foot or by bike to and from Grange, Tramore Valley Park, Douglas and the city centre without having to get in their cars. It will go a long way to improving the quality of our environment and indeed the quality of life for the people who will use this new route."
Minister for Transport, Eamon Ryan T.D. said: "Cork is a beautiful city already and this newest bridge and "safe link" into the city from Grange, through Tramore Valley Park and towards the centre is going to help make it even more attractive, for locals, for commuters and for visitors. When we came into Government and committed to spend €1m a day on active travel it was a number on a page but now, through projects like this, we can see what that commitment looks like for people, for nature and for the future of our cities, towns and villages.".
The Grange to Tramore Valley Way gives people the safe and attractive option to leave the car at home. The more people who do that the less cars we will have on our roads, freeing them up of congestion. The new Bridge across the busy N40 South Ring Road is also a great example of how we can connect residents to facilities on the other side of a busy road that may have otherwise acted as a barrier, giving people greater freedom to walk or cycle safely, in this case to enjoy the woods or access shops or playing fields, for example, on the other side without the need to hop in the car.
Chief Executive of Cork City Council Ann Doherty said: "In line with the Cork Metropolitan Area Transport Strategy, this project supports residents, commuters and students to make more sustainable transport choices which will help reduce car dependency and therefore traffic congestion in the city. The Grange to Tramore Valley Park path will also make walking or cycling more attractive and support people to easily and safely enjoy a more active lifestyle in their own community".