29 March 2019
By Roger Jones IV
roger@TheCork.ie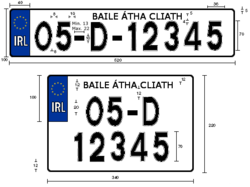 Technically it is called a an "index mark" or "vehicle registration plate", but in day-to-day language, most people call it a "number plate" or "licence plate"
Republic of Ireland
In the Republic of Ireland, you cannot have personalised number plates as they are thought of in other countries. Why? because Irish plates contain mostly numbers, not letters.
A typical registration format is 191-D-12345, where 191 refers to the year then section of the year (1st half or 2nd half), D refers to the County of first registration (i.e. where the first owner had their address, Dublin in this example), and 12345 refers to the sequential position of registration that year.
The closest you can get to a custom number plates is to pay in advance for a so-called 'cherished number'. You must then wait for the number of cars registered to meet that number. Typically you might see 191-D-525 on a BMW 525, or 191-D-911 on a Porsche 911, or a 999 registration on an Emergency type vehicle (just examples!).
A registration remains fixed on the one vehicle until it is de-registered (exported, destroyed, etc.), and cannot be transferred to another vehicle.
The current regulations are set out in the amended Vehicle Registration and Taxation Regulations of 1999. These rules, as amended in 2012, prescribe the format, dimensions and technical specifications of the registration plates you see on vehicles.
Will the Republic of Ireland ever change from its current system? Not for the foreseeable future, but over time the system has changed many times to get us to where we are now.
2013: Each year was divided into 6 month blocks, to help the motor industry space business throughout the year
The initial two characters used to refer to an entire year (e.g. 12 for 2012), but are now are suffixed with an indication of which half of the year the registration took place in (e.g. 191 for January and 192 for December)
The introduction of the dual registration plate in 2013 was seen as a long-term project for the Motor Industry. The Industry was seeking to shift some activity into the second half of the year to address the serious problem of seasonality in the Motor Industry in Ireland. After many years of campaigning for change, a new format was introduced in 2013, so new cars currently in Dublin have the format of 191-D-12345, and later in the year will look like 192-D-12345.
It is not possible to switch registrations, this means any member of the public can instantly tell the age of car simply by reading its plate – e.g. 151 is a car from the 2015 year.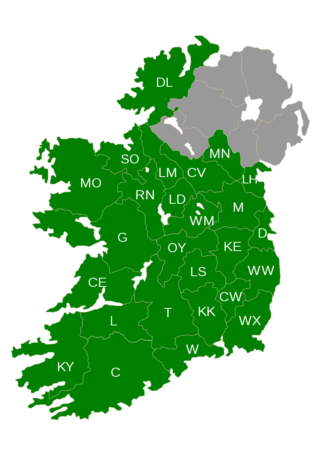 2014 County names changes: After many City & County Councils were merged
There was also a second change in recent years. The post-1987 system set out abbreviations for County names.
C (CORCAIGH) – County Cork
CE (AN CLÁR) – County Clare
CN (AN CABHÁN) – County Cavan
CW (CEATHARLACH) – County Carlow

D (BAILE ÁTHA CLIATH) – County Dublin
DL (DÚN NA NGALL) – County Donegal

G (GAILLIMH) – County Galway

KE (CILL DARA) – County Kildare
KK (CILL CHEANNAIGH) – County Kilkenny
KY (CIARRAI) – County Kerry

L (CATHAIR LUIMNI) – Limerick City
LD (AN LONGPHORT) – County Longford
LH (AN LÚ) – County Louth
LK (LUIMNEACH) – County Limerick
LM (LIATROIM) – County Leitrim
LS (LAOIS) – County Laois

MH (AN MHI) – County Meath
MN (MUINEACHÁN) – County Monaghan
MO (MAIGH EO) – County Mayo

OY (UIBH FHAILI) – County Offaly

RN (ROS COMÁIN) – County Roscommon

SO (SLIGEACH) – County Sligo

TN (TIOBRAID ÁRANN THUAIDH) – County Tipperary (North Riding)
TS (TIOBRAID ÁRANN THEAS) – County Tipperary (South Riding)

W (CATHAIR PHORT LÁIRGE) – Waterford City
WD (PHORT LÁIRGE) – County Waterford
WH (AN IARMHI) – County Westmeath
WW (CILL MHANTÁIN) – County Wicklow
WX (LOCH GARMAN) – County Wexford
The importance of the Irish language is recognised in that the full name of the County appears in capital letters above the numbers, for example, CORCAIGH on C plate.
Due to Local Government Reform, some County Councils merged. Since 2014, the vehicle registration plate of "T" for Tipperary was introduced, due to the merger of Tipperary North County Council and Tipperary South County Council.
Limerick and Waterford also changed as their City and County Councils merged. Limerick went from having "L" and "LK" to just "L". Waterford went from having "W" and "WD" to just "W".
Northern Ireland
In contrast, the situation in Northern Ireland is different. A registration can be transferred, plus registrations use more letters so are more open to matching dictionary words, or personal names.
Northern Ireland uses the UK system where it is possible to disguise the age of a vehicle, and its geographic link. This website on Irish number plates explains the Northern Ireland process, and offers a simple three-step process to perform a transfer. For the rest of the UK, drivers need to access vehicle registration data via Gov.uk and the DVLA website.
When buying a used car you should get a car registration check to view your vehicle details and a free history report. There are many providers, for example CarVeto provides all DVLA open sourced vehicle check details for all cars, motorcycles and light commercial vehicles, including theft and accident alerts.
211125, 220115, 220607