10 August 2021
By Roger Jones
roger@TheCork.ie
Orthopaedic Therapy is one of the fastest-growing occupations today – Qualified Therapists can work effectively with Sports Clubs, Clinics, or as Self-Employed Therapists.
The International College of Orthopaedic Therapy – previously known as St. Martin's College – based at Exchange House, Main Street, Ballincollig, Cork is currently seeking students for a September 2021 start in 3 courses. The courses utilise blended learning, so students have home study modules as well as College tutorials. This is beneficial for anyone who wants to stay working while studying. The College has a range of courses, and at the time of writing is it seeking students for 3 which start next month.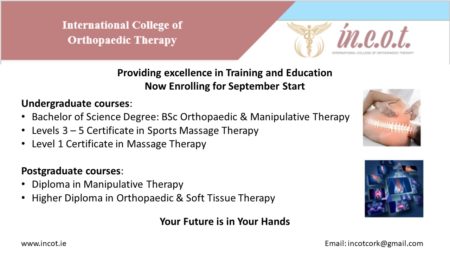 BSc in Orthopaedic and Manipulative Therapy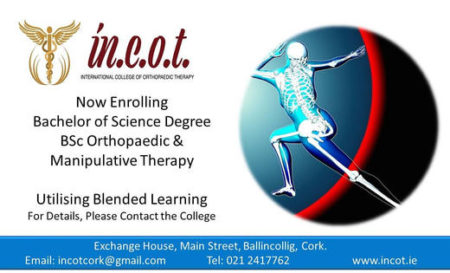 https://www.incot.ie/courses/bachelor-of-science-manipulative-therapy
Orthopaedic Therapy is dedicated to the prevention and treatment of injuries of both soft tissue and orthopaedic nature. This course offers the learner the skills necessary to effectively and confidently diagnose and treat a wide variety of injuries. Learners will be given the necessary skills to confidently and effectively examine and perform appropriate orthopaedic tests, to be able to arrive at an accurate differential diagnosis of injury. Manipulative therapy is the treatment of joints using manual mobilisation and thrust techniques. It utilises the techniques of Osteopathy and Chiropractic. In addition, the learner will receive training in the rehabilitation of the injured person, electrotherapy, orthopaedic testing and treatment protocols.
Level 3 Certificate in Sports Massage Therapy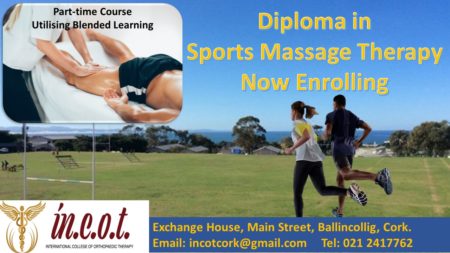 https://www.incot.ie/courses/level-3-certificate-in-sports-massage-therapy
Modules covered include
Functional Anatomy & Physiology & Nutrition for Sports Therapies,

Applying Sports Massage methods to Non Pathological Tissue.

Business, Conduct and Professionalism.

Benefits of Massage

Massage Techniques,

Contraindications to Massage

Client Care & Home Care Advice

Client records and Consultation forms

Formulating a treatment plan

Case studies
Level 1 Certificate in Massage Therapy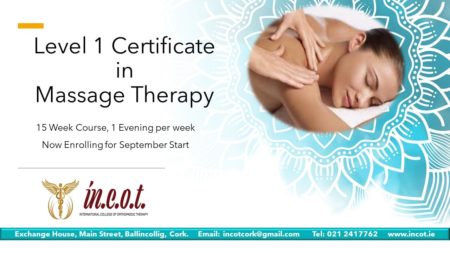 https://www.incot.ie/courses/level-1-certificate-course-in-massage-therapy
This 15-week course in Level 1 Massage Therapy is ideal for anyone wishing to learn the skills of massage. The course is accredited by the Federation of Holistic Therapists (FHT) Ireland and the UK. This course will give you the necessary skills to be a confident and effective Level 1 massage therapist working only on non-injured tissue. It is an ideal introduction to the field of Massage Therapy.
About the College

The college was opened in 2006 by Physiotherapist Dr. Neil Sheehan, MISCP, MMedSE, PhD. Neil has been involved in the treatment of injuries for over 25 years. He graduated from UCC with a Masters (Hons) in Sports and Exercise Medicine in 2014. In early 2021 he completed a PhD. He has been involved in coaching sport for 35 years. Neil is an adviser in Sports Therapy for the Federation of Holistic Therapies for the UK and Ireland, and is a regular speaker at their conferences. Neil is Chairperson of the Register of Orthopaedic & Soft Tissue Therapists of Ireland (ROSTI).
Job Opportunities for graduates
College founder Neil Sheehan says
"We are proud to have graduates of the International College of Orthopaedic Therapy working in clinics and hospitals in Ireland as well as internationally across the UK, Europe, Australia and New Zealand".
He continues
"If you like working with people and have a keen interest in health and well-being, then a career in Orthopaedic & Soft Tissue Therapy could be for you. Many of the evening courses are a great stepping stone on the way to a career in many forms of therapy. Students must be a minimum of 18 years of age. Previous knowledge of anatomy and physiology is helpful, but not necessary as students are given a thorough understanding of both of these fundamentals during the course."
Facilities at the College include a dedicated lecture room with projector, a large training room equipped with therapy couches and anatomy models, and a kitchen area for student use. As well as the training room there are three fully equipped treatment rooms available to advanced students.
Courses are delivered by highly qualified, professional therapists. Qualifications are Internationally Recognised. Practical clinical experience is included. Qualified students (BSc & HDip) may apply for membership of the Register of Orthopaedic & Soft Tissue Therapists Ireland (ROSTI). The significance of this is that ROSTI members are approved for payments by VHI Healthcare, LAYA Healthcare, and Irish Life Healthcare.
See the full range of courses at https://www.incot.ie/courses/