16 March 2023
By Elaine Murphy
elaine@TheCork.ie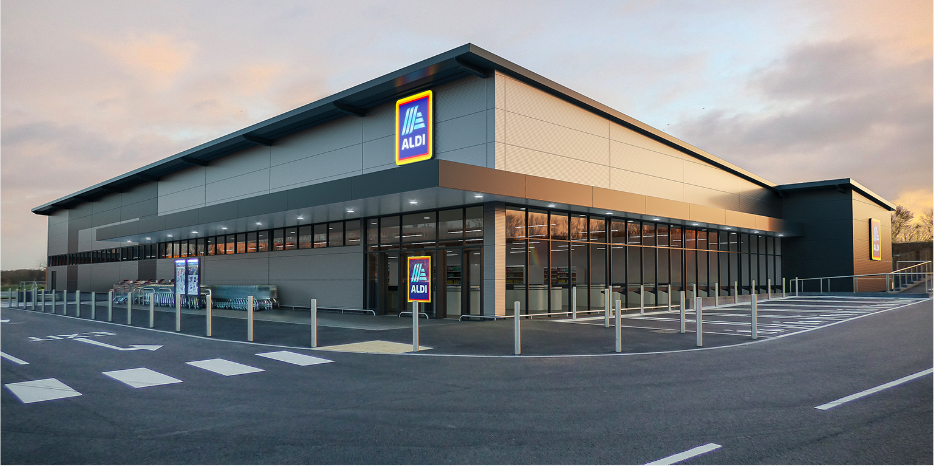 ALDI outlines its continued positive impact on Cork's economy
ALDI Ireland today announced details of its continued significant contribution to Cork's economy and the impact of its charity partnerships across the county. In its annual ALDI Economic Impact Report published today, the company said it paid over €30 million in wages and salaries and opened one new store in Cork in 2022.
In 2022, ALDI sourced €70 million of locally produced food and drink from Cork based suppliers. ALDI partners with 30 Cork producers, including long-term relationships with Irish Yoghurts and Boulta Agri. Last year, ALDI began working with five new Cork suppliers for the first time, including Sibly Foods Ltd and Hyde Ltd, opening opportunities for local companies to stock their local produce on the shelves of one of Ireland's leading retailers.
Operating 25 stores in Cork and a regional distribution centre in Mitchelstown, ALDI employs over 850 full time staff in the county. ALDI opened a new store in Clonakilty last year, creating a total of 30 new jobs locally. All available job opportunities in County Cork can be found on the ALDI Recruitment website.
ALDI's stores support multiple charities across Cork at a local level. Each store is part of ALDI's food waste reduction programme, with ALDI's Cork stores having donated over 300,000 meals through FoodCloud to local charities. Each store is also part of ALDI's Community Grants network, with Cobh Community Hospital and St Johns Ambulance Glanmire and Marymount Hospital & Hospice some of the many local charities that availed of the €500 bursary grant in 2022.
In 2022, ALDI supported the 'DIY SOS: The Bigger Build Ireland' series on RTÉ, which saw the renovation of six houses at Kingston College in Mitchelstown to provide much needed accommodation for Ukrainian refugees. ALDI provided a range of food and drink to a dedicated group of volunteers working on transforming the houses and making them fit for purpose. ALDI also introduced its first reverse vending machine trial in Ireland, at its Mitchelstown store. Customers are encouraged to return PET plastic bottles up to three litres and aluminium drinks cans with €1,000 per month being donated to charity partner Barnardos.
In addition to donating to local charities, ALDI also supports local communities through its tree planting initiative, with a commitment to planting 1 million native Irish woodland trees across Ireland by 2025. As part of this commitment, ALDI has planted nearly 230,000 trees across Co. Cork to date.
About the report
The ALDI Economic Impact Report  includes detail of ALDI's contribution to the national and local economy, including investment in its product offering, its team and the communities the retailer serves.
In 2022, ALDI sourced €1.1 billion of locally produced food and drink from Irish suppliers. In total, ALDI partnered with over 330 Irish producers throughout the year and began working with 15 new suppliers for the first time, including Builín Blasta, Elite Home Products and Athlone Confectionary.
ALDI opened six new stores in Caherciveen, Clonakilty, Ballina, Ardee, Tuam and Mountbellew, increasing its footprint to 155 across the country.
Last month, the retailer announced an additional 360 new positions, which will bring ALDI's total employee numbers in Ireland past 5,000 people. ALDI also announced the adoption of the new 'Living Wage' recommendation of €13.85, from 1 February, becoming the first Irish supermarket to do so. ALDI's Economic Impact Report confirms a spend by the retailer of almost €160 million on wages nationwide in 2022.
Commenting Niall O'Connor, Group Managing Director, ALDI Ireland said: "Our goal is to make a positive impact in every local community that our stores serve. Our operations and stores contribute to businesses, communities and families right across Cork.
We take great pride in working together with our local suppliers to bring quality, affordable products to our customers. People who shop in ALDI know that they will never have to choose between quality, healthy food, and price, and we are committed to offering the best value of any supermarket.
We know this is increasingly important during a trying cost-of-living crisis and continue to be very aware of its impact. We are committed to helping our customers weather this storm and will continue to shield and protect them with low prices, starting with even bigger discounts over the coming year.
This crisis also affects our suppliers, many of whom have seen their input costs rise as a result. Our continued investment with our valued supply partners allows them in turn to invest in their businesses and their people. We're delighted to announce that we spent over €70 million sourcing locally produced food and drink from Cork suppliers in 2022, while investing more than €230 million in the county since opening our first Cork store in Ballincollig in 1999."
About ALDI
ALDI Ireland employs over 4,650 people and operates a network of 155 stores across the country, with stores in each county in the Republic of Ireland.
ALDI has pledged to invest €320 million over the next three years (2022-2024) in a bid to further accelerate its share of the Irish grocery market.
ALDI also plans to on expand its store network in Dublin, resulting in an investment of €73 million in 11 new stores with the creation of 350 new full-time jobs over the next five years.
ALDI Ireland increased its hourly pay rates for store colleagues from 1st February 2023, maintaining its position as Ireland's best paying supermarket. ALDI pays all store assistants up to €14.90 an hour, with a market leading entry rate of €13.85 an hour.
ALDI currently stocks over 1,800 products and works with over 330 Irish suppliers. In addition to this, ALDI has invested more than €8 million in its Grow with ALDI supplier development programme since 2018, which provides an opportunity to Irish food and drink companies to gain a listing in ALDI's 155 stores.
ALDI works closely with a number of national charities including Barnardos, FoodCloud, and the Irish Cancer Society. To date, ALDI has donated 2.6 million meals to FoodCloud, equating to a saving of over 1 million kgs of food from going to waste. This also benefits the environment with an equivalent saving of 3.2 million tonnes of CO2.
ALDI has pledged to raise €2 million by 2024 for charity partner Barnardos to help support vulnerable children and families across Ireland. To date, over €1.1 million has been raised for Barnardos since partnering in November 2020.
ALDI partners with local communities and charities across Ireland in donating Community Grants each year to help fund local causes and will have donated over €535,000 to more than 1,000 local charities through the programme to date.
ALDI is the official fresh food partner of the IRFU and sponsor of ALDI Play Rugby, a programme that encourages school children to lead healthy and active lifestyles.
ALDI is a verified member of Bord Bia's national sustainability programme Origin Green, Ireland's pioneering food and drink sustainability programme.
ALDI has achieved Business in the Community Ireland's Business Working Responsibly mark, one of the leading independently audited standards for CSR and Sustainability certification in Ireland.
ALDI was awarded Best Supporter of Local Suppliers at the 2022 National Grocery Retail Awards as well as ALDI Caherciveen being awarded the title of Discounter Store of the year.
ALDI won the Lean Leadership Award at the Lean Business Awards 2022 in recognition of the strides it has made across both operational and enterprise excellence.
ALDI was awarded the Communication award at the Chambers Ireland Sustainable Business Impact Awards 2022 in recognition of its Corporate Responsibility strategy, 'Better Everyday'.